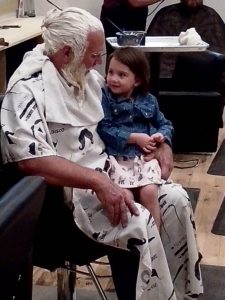 SANTA CLAUSE MAKES EMERGENCY STOP IN BRIGHAM CITY OCT 18TH 2016
Santa explained that a while ago he was involved in a little incident at the North Pole Workshop.     One of the Elves, that Santa Refused to name, was so excited to show Santa the progress that he and his team was having on a new all natural coloring came looking for Santa. As he saw Santa heading down the stairs he started running with a sample in hand.   Just as he got to the railing he tripped on his shoelace.   When the dust settled the Elf was lying next to the railing looking a bit embarrassed.   While the sample of coloring was scattered across everything, Including Santa.     The new all natural coloring worked so well that the railing and a good portion of the floor needed painting.     But as for Santa, he thought painting over his hair was not going to work.…..   Thus the trip to see Lindsay Smith at the Studio 360°   Salon in Brigham City.     Lindsay explained to Santa that this was the first time in her work experience that she had ever had to remove   this or any type of coloring from anyone's beard, hair yes, beard NO.
While in the process of   removing the streaks out of Santa's hair, Santa had a visitor. Harlow the young daughter of one of the employees, just watched  and stared for the longest time with soft beautiful eyes the size of quarters.   It was 0 dark 45 outside and Santa was not who she had expected to see. As she scanned the room she could see Santa's hat and coat draped over a chair, she knew that it was the real Santa. A bit hesitant at first, but wanting to be able to show her dad that she really did see Santa at the salon.   Harlow was helped by her mom to Santa's knee.   Harlow and Santa had a good visit while mom and others in the salon took photos.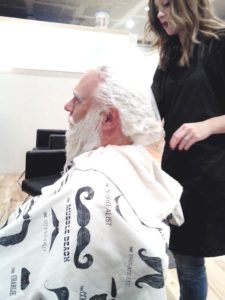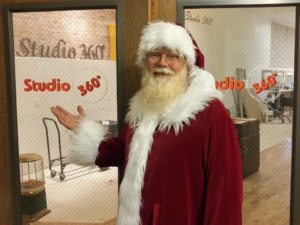 MERRY CHRISTMAS TO ALL AND TO ALL A GOOD NIGHT