On March 13th I received a call from Caroline Peterson.  She had seen in the Brigham Paper that I had taught a class at the library on beekeeping.  She wanted to do a story about bees and asked if I would help.   Of course I said yes.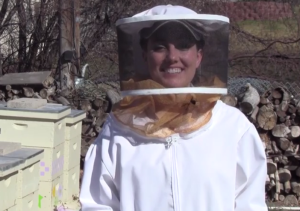 this photo was striped out of her story.
When I asked for information to use as a Bio, she replied.
"My name is Caroline Peterson and I am a Journalism and Communications Major at Utah State University where my passion lies in reporting. I hope to someday bring great news to great people. "
While we were visiting,   I mentioned that when she graduated, I expected to see her on one of the local TV stations.   Her response was highly in favor of the same.
Published on Mar 18, 2015
Bee story I did!! Tons of fun! thanks to Boyd Young, Jonathan Koch and youngbees.com.