I've had a few request for recipes used in beekeeping.
I'll start here and add as time allows.
********************************†********
NON COOK SUGAR CANDY BOARD
15 POUNDS OF GRANULATED SUGAR ( 2 GALLON)
1 CUP WATER
3 DROPS EACH OF LEMON GRASS OIL, SPEARAMENT OIL, TEA TREE OIL.  OR 2 TBL HONEY B HEALTHY
1/2 TBL SPOON LECITHIN
1 TBL SPOON WHITE VINEGAR
Blend water, essential oil,  vinegar,and lecithin ( if using honey b healthy just mix with the water).   Pour mix over the sugar in large mixing bowl.  I tried mixing with a large spoon, but my clean hand worked much better.   Mix till sugar is uniformly damp.  Pour into prepared candy board frame.  Scoop out a small spot in the center so moisture can escape out the upper vent.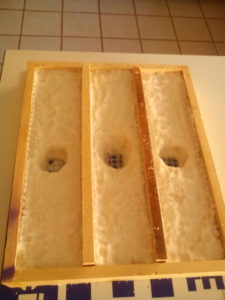 The candy board pictured is going on my queen castle where I will try overwintering 3 small nucs.  The Queen castle will  be put above a production colony, in an attempt to keep them warmer.
*****************************************************
 BEE FEEDING STIMULANT COMPARE TO HONEY BEE HEALTHY
I got this off the internet.  The author's name was Brendhan,  he had tried several batches, this is the one that gave him the results most like the original.
1 cup water…..   bring to almost  but not quite  to a boil, pour in blender
1 cup sugar…..   add to blender and mix till dissolved.
6 Heaping tablespoons  of Lecithin granules,,,,   add to blender and mix for a few seconds.
1/4 teaspoon spearmint oil,,,,   add to blender
1/4 teaspoon lemongrass oil,,,,  add to blender…   turn on blender for 1 minute.
This Recipe will make about 3/4 pint.  it should have nearly the same texture, color and results as Honey Bee Healthy.  The lecithin is used as an emulsifier, so the oil and water will mix.   Other recipes have used smaller amounts of lecithin, but the final product will not have the same viscosity, texture or feel.
When using this product,  add ONE  teaspoon of the concentrate to one quart of sugar water.
*********************************************************************
SALVATION SALVE
This Recipe for Salvation Salve is scaled down for the hobbyist.  It makes enough for 10 hives.  I have double checked my conversions and believe them to be correct.
granulated Sugar                                                       0.625 pounds
powder sugar                                                              0.325 pounds
shortning                                                                     0.325 pounds
thymol Crystals                                                          0.35  cups
menthol crystals                                                          1.2 tea spoons  or 6 cc
eucalyptus oil                                                               3.6 tea spoons or 18 cc
lemon grass oil                                                             1.2 tea spoons  or 6 cc
tea tree oil                                                                     1.2 tea spoons  or 6 cc
spearmint or wintergreen  or pepperment oil       1.2 tea spoons  or 6 cc
camphor oil                                                                 1.2 tea spoons  or 6 cc
sweet orange oil                                                           1.2 tea spoons  or 6 cc
DIRECTIONS    mix shortning till softened,  add granulated sugar and mix,  add all oils then mix again,   add thymol and menthol crystals and mix well,  add powdered sugar and mix.
5 cc = 1 tea spoon
3 tea spoons = 1 table spoon
I have not made this, but have been told that the ingredients can be found at
**************************************************************